The Center for Faculty Excellence (CFE) provides structures and opportunities to empower faculty excellence and help Simmons faculty thrive in their professional lives.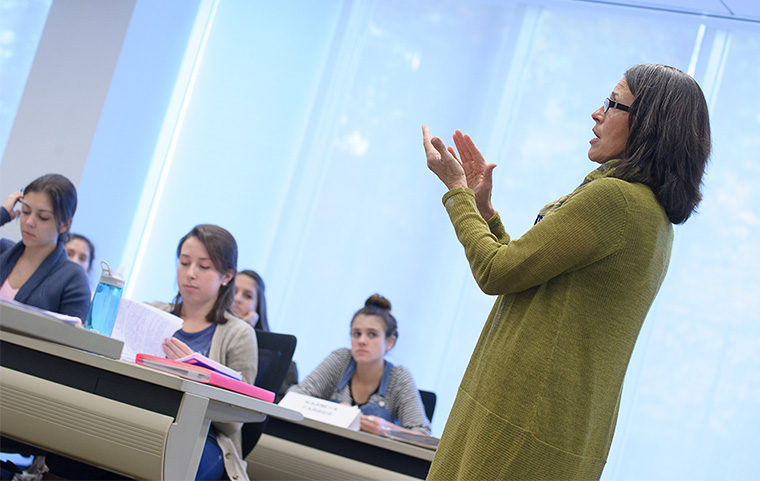 The Center for Faculty Excellence (CFE) works to support President Wooten's strategic priority of Empowering Faculty Excellence by developing and offering a wide array professional development programs and services related to all areas of faculty work, with a particular emphasis on excellence in teaching and learning, research and service, and support for career development. CFE also collaborates with faculty and administrative leadership University-wide on the ongoing development of policies, processes, and resources in support of faculty work, including providing leadership, research, training, and/or professional guidance as needed.
CFE uses the following guiding principles in our work to help Simmons faculty thrive in their professional lives:
We partner with faculty and incorporate opportunities for faculty leadership in CFE.
CFE serves all faculty: our programs and services are relevant and open to a variety of types of faculty roles.
Diversity, equity, and inclusion, particularly equitable teaching principles, are the foundation for our work.
Our work is evidence-based and grounded in recent research in the field.
We are intentional about offering programs and services that build cross-disciplinary community and provide opportunities for collaboration.
CFE offers both shorter and longer-term professional development opportunities, recognizing that both in-depth work and effective use of time are valued by our community.
CFE works to maximize access to programs and services through offering online attendance and asynchronous materials when possible.
We evaluate our work with intentionality, modeling best practices in program-embedded assessment.
CFE programs, services, and resources are designed by considering strategic priorities for Simmons, requests and needs of the faculty, and best practices in educational and faculty development. Please reach out to [email protected] or individual team members with program requests or ideas for how we can support faculty at Simmons.