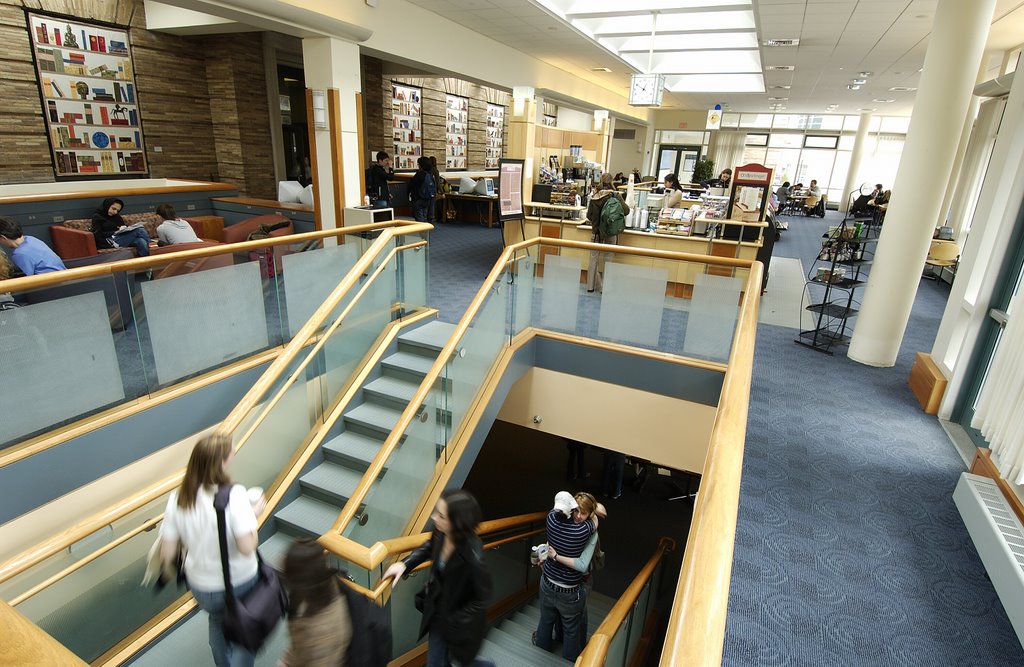 This page lists the steps necessary for Simmons faculty or staff members to plan a meeting, training, or other event on campus. Please review available spaces and determine the needs for your event.
Request a space
Please submit a space request at least five business days in advance. Your request will be reviewed within 24 hours and you will receive a response confirming or denying your request.
Once you have reserved your event space and received confirmation, you can submit the following forms based on the specific needs of your event.
---
Room Setup
If you need a room setup (tables/chairs/podium), please fill out a room setup request at least five business days in advance.
---
Building Access
If your event requires special building access arrangements, please submit a building schedule change request.
---
Technology
If you need technology for your event, submit a media request form.
---
Food & Drink
Food or beverages for your attendees must be ordered via the catering website. Please review catering-specific policies on the site.
Frequently Asked Questions
How far in advance do I need to book a room?

Space is at a premium at Simmons University so we recommend that you complete a request form as soon as you know what date, time, and number of attendees you expect. All classroom space can not be booked until four weeks into each semester.

Do I need to fill out a request form for a meeting/function space?

Yes, if you need a room for a meeting or function on campus, you will need to submit a space request form.

Can I reserve parking?

All parking requests should be requested through the Parking Office. Parking in the garage is limited.

Can I reserve a meeting room for a Saturday or Sunday?

Yes, you can reserve a room for a weekend but you may incur overtime charges for housekeeping, set-up, and food. If overtime charges are involved you will be informed.

Can I reserve a room on the Residence Campus?

Yes, Conferences can reserve various spaces on the residence campus such as the hall lounges, meeting rooms, and Alumnae Hall. Sports Center requests should go through the Sports Center directly via their online request form.

What should I do if my events head count has changed?

It is very important to contact Conferences ASAP at 617-521-2158 if the number of attendees has changed because it can affect the set-up of the room. If applicable, you should also contact Dining Services at 617-521-2904 so that you are ensured that there will be the proper amount of food at your event.

How do I cancel a reservation?

Either via email or if it is within one week of the event by phone, 617-521-2158.
Policies
Information Tables

Please contact Conferences & Special Events for booking information tables in the Fens, Common Grounds (in front of the windows on the Palace Road side), and the MCB 1st Floor Lobby. The Common Grounds and 1st floor locations require a room setup form in order for a table and two chairs to be delivered.

Information Table Policies

Information tables are for use by Faculty, Staff and recognized Student Organizations only.
Tables are provided with 2 chairs; please do not move tables or chairs.
Food giveaways are not permitted in the Fens Lobby when a bake sale is occurring. Please contact OLSA directly to check the Bake Sale table schedule.
Information Tables cannot be booked more than two times per week to allow for other groups to have an equal opportunity to advertise. Exceptions may be made based on availability and need.

Signage

Signage advertising your meeting/event can be posted on bulletin boards, easels and digital signage.
Signage is not permitted on walls, windows, or doors.
Signage may only be put up two weeks prior to your event and MUST be removed within 24 hours of the conclusion of the event. Signage not taken down within 24 hours will be removed and recycled.
Only 1 sign per event can be advertised in the 1st floor lobby of each building on the academic campus. A sign is also permitted in the Fens Lobby of the MCB.
Easels may be requested through Conferences & Special Events at least 3 business days in advance of when you need them.
Spaces NOT booked by Conferences