Welcome Sharks!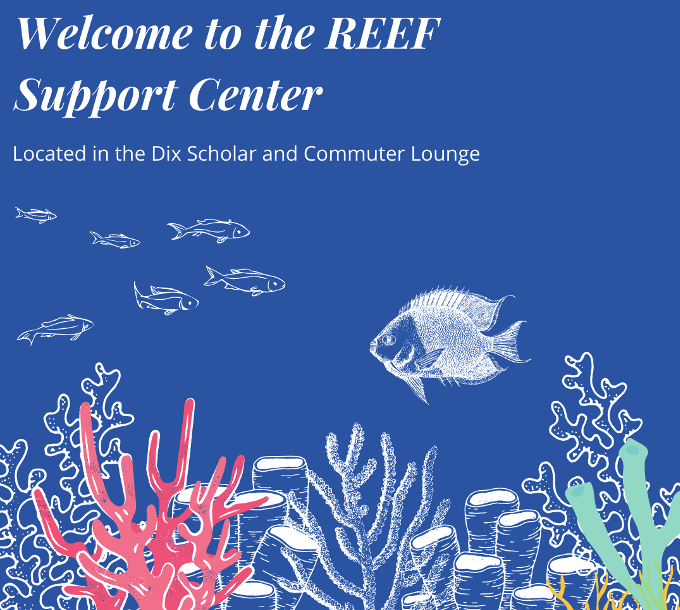 In the ocean, the coral reef offers generations of sea life shelter and food, to support a healthy ocean.
At Simmons, the REEF Support Center acts as a similar support hub for undergraduate, graduate, and online students. REEF refers to Resilience, Efficacy, and Empowerment through Foundational support services.
Our Mission
To make holistic support resources more easily accessible to students and nurture systems of community care on campus.
Our Vision
The REEF Support Center is a centralized student resource hub that offers support specific to food access, housing access and off-campus living, the SOS Emergency Fund, as well as violence prevention, education, and survivor support. The REEF Support Center team offers 1 on 1 support in accessing on and off-campus resources and provides guidance to students navigating challenges that may impact their academics.
Inspired by the words and actions of Muri artist, Lilla Watson, we know that all members of our community thrive when we have access to holistic resources – our liberation is bound together.  We name that fostering cultures of care disrupts the historical and present violence of white supremacy and provides an opportunity for connection, transformation, and healing
Quick Links
Get Connected
Knowing where to start when navigating supports at Simmons and in the greater Boston community can be challenging. That's why we exist! Connect with us by emailing [email protected] to set up a 1 on 1 meeting with a Support Specialist, and/or review community supports and resources local to Boston, MA! More information about the services we offer can be found by exploring the sub-tabs located on the left of our webpage.
In The Works
As we grow, we have exciting plans on the horizon. We welcome you to check on here for continued updates and information.
REEF Community Resource Room (CRR): Through a framework of community care and mutual aid, we are thrilled to begin the planning process of implementing a Community Resource Room in partnership with our campus community. The REEF CRR will provide an established and dedicated space on campus that offers food and other basic need items to students at no cost.
Visit Us
Mondays-Fridays 8:30am-4:30pm
We are located at the Main College Building inside of the Commuter Student/Dix Scholar Lounge (A-075A and B). This means that we are a multipurpose space. When you visit, you'll find students taking a break, studying, connecting with friends over tea/coffee, and even working on our communal puzzle.
Email: [email protected]
Phone: 617-521-3044
Meet The Team
Matoaka (she/her) is the Director of the REEF Support Center and thrilled to join the Simmons community once more. Matoaka brings a background in Macro Social Work and has a passion for community building through frameworks of community care and liberation. In her free time, Matoaka can be found camping, working on her small greeting card business, and trying to use a cookbook recipe, but mostly relying on taste tests. Matoaka is excited to partner with students and staff to build the REEF Center into a space where students can find connection and belonging.
Christine (she/her) is a Social Work Intern within the Reef Support Center. Christine is a first year MSW student who is interested in working with the young adult population. She is enthusiastic about advocating for student's access to mental health resources. Christine enjoys traveling to new places within Boston and out of state. Her favorite hobbies are walks, lattes, and spending time with friends and family. Christine is excited to work at the REEF Center to help build student's resilience.
Halle (she/her) is a Social Work Intern with the REEF Support Center. Halle is a first year MSW student who is happy to return back to Boston! Halle is excited to help get the community resource room up and running. In the meantime, she loves gathering other resources around Boston. Halle enjoys listening to jazz music while she studies. She also enjoys trying new restaurants around Boston in her free time. Halle is really excited to get to know students and help them connect with resources at Simmons and beyond.