Welcome Sharks!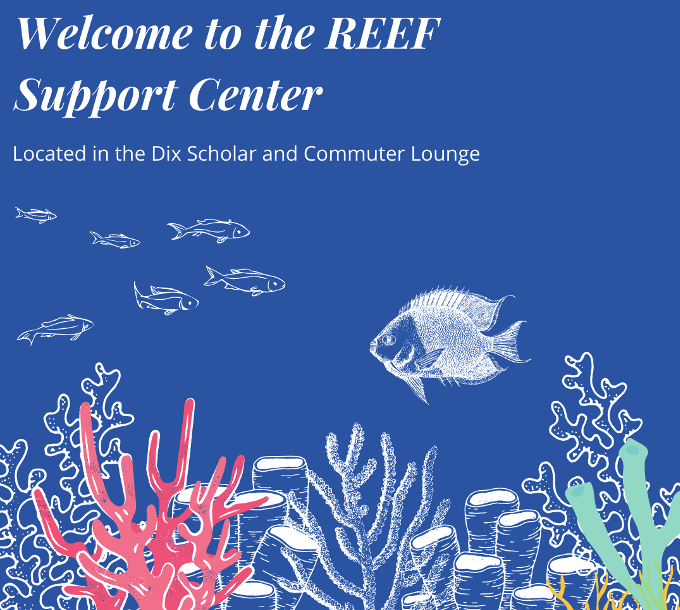 In the ocean, the coral reef offers generations of sea life shelter and food, to support a healthy ocean.
At Simmons, the REEF Support Center acts as a similar support hub for undergraduate, graduate, and online students. REEF refers to Resilience, Efficacy, and Empowerment through Foundational support services.
Our Vision
We inspire our students, faculty and staff, and alumnx to be partners in a collective effort to connect student's to foundational resources, dismantle systemic barriers in accessing support, and develop organizing skills for community advocacy and agency.
Our Mission
We will centralize student resources by offering foundational support specific to food access, housing access and off-campus living, emergency funding, as well as our Violence Prevention, Education, and Outreach program. We operate from a framework of collective liberation that is grounded in the belief that our community thrives most when all members have access to holistic resources. By fostering a culture of care and support, we disrupt the historical and present violence of white supremacy and provide an opportunity for connection, community building, and healing.
Get Connected
Knowing where to start when navigating supports at Simmons and in the greater Boston community can be challenging. That's why we exist! Connect with us by emailing [email protected] to set up a 1 on 1 meeting with a Support Specialist, and/or review community supports and resources local to Boston, MA! More information about the services we offer can be found by exploring the sub-tabs located on the left of our webpage.
Visit Us
Mondays-Fridays 8:30am-4:30pm
Welcome to the REEF Support Center. We are located in the MCB in the Commuter Student/ Dix Scholar Lounge (A-075 A and B). The REEF Support Center is a hub for any Simmons student to stop by. Meet peers, connect with a REEF team member, or enjoy some quiet time in this spacious study spot. Our cozy space allows students to relax, do homework, or chill out.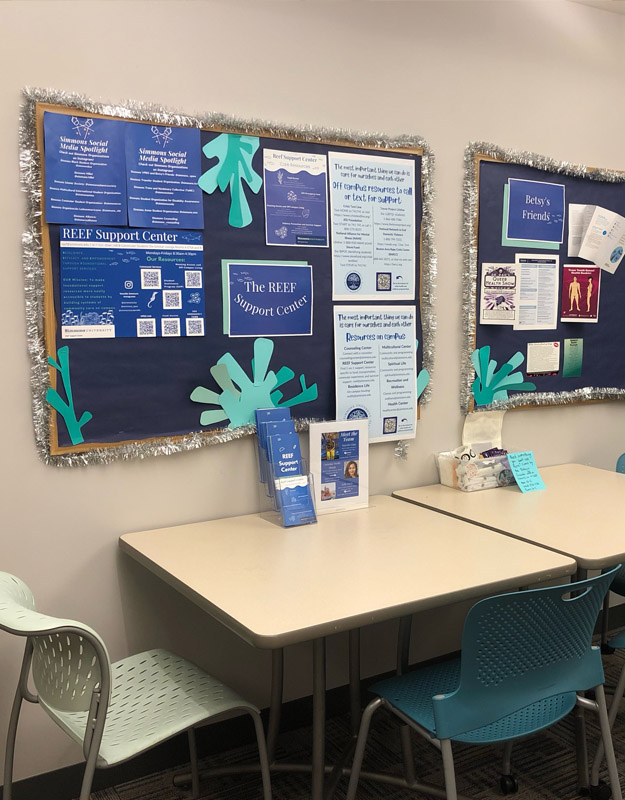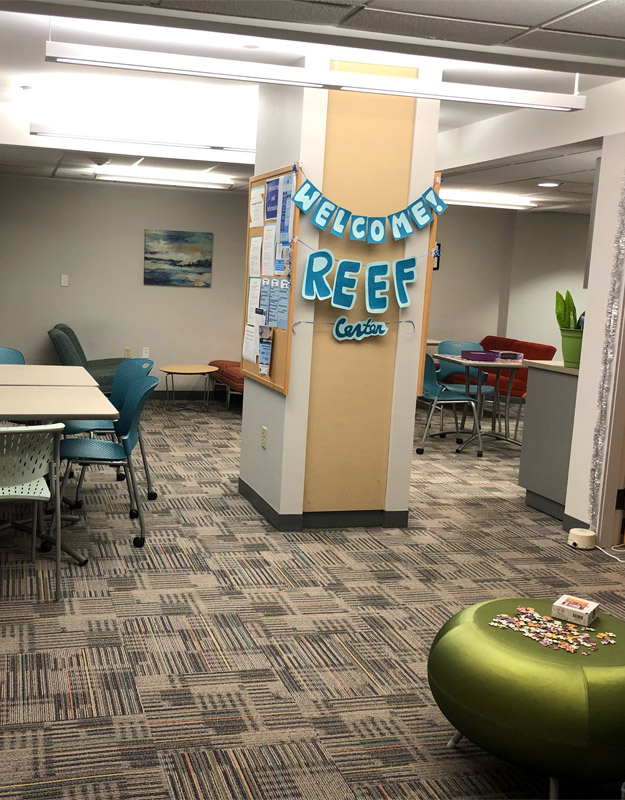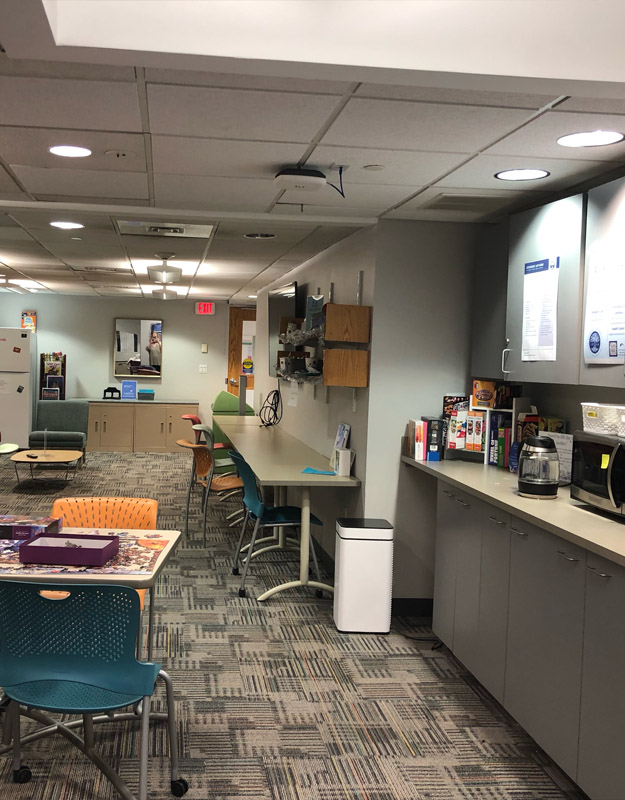 Email: [email protected]
Phone: 617-521-3044
In the REEF Support Center, we offer students resources such as:
Fridge
Microwave
Snacks
Tea Kettle
Tea/Hot Cocoa
SAD Lamps
Office Supplies (whole punch, stapler, pencil sharpener)
Games and Puzzles for student use!
The REEF Support Center also connects students to off-campus resources when needed. We recommend utilizing this Guide after visiting our exhausting the on campus resources listed on our website.
Meet The Team
Matoaka Kipp (she/they) is the inaugural Director of the REEF Support Center, a Simmons alum, and a big fan of bright-colored blazers. Matoaka brings a background in Macro Social Work (BSW from Simmons and MSW from the University of Michigan) and has a passion for community building through frameworks of community care and liberation. In her free time, Matoaka can be found in her garden plot, at the climbing gym, listening to Betty Who or Janelle Monae, and spending way too much time at the Armenian grocery stores in Watertown,MA. Matoaka is honored to partner with students and staff to build up resources at Simmons, as well as facilitate connection and belonging. Check out their Top 10 playlist.
2023-2024 MSW Interns
Becca uses any pronouns (they/he/she). They graduated from undergrad with a bachelor's in psychology and criminal justice and are pursuing a master's degree in social work and trauma here at Simmons! Becca has worked at dual sexual and domestic violence agencies as both a professional and a volunteer, and is now the Violence Prevention Educator and Survivor Advocate at a local university. They are passionate about prevention education, restorative justice and student-lead programming. Outside of work, they love reading, coffee, days with sunshine and spending time with their two cats!.
Shannon (she/her) is a social work intern within the REEF Support Center. She graduated from Sarah Lawrence with a B.A. in Psychology and Dance and is currently pursuing her MSW from Simmons University. She comes to this position with a background of teaching movement. Shannon has experience working on interpersonal violence prevention and advocacy. She is interested in anti-oppression work and using mindfulness practices to deepen connections and create social change. She believes in the power of community to support and empower individuals and seeks to foster individual agency through self-compassion, while maintaining a sense of humor. Shannon is looking forward to connecting with Simmons students. Shannon spends her free time with her two children, taking walks and doing as much movement as possible – whether that is yoga, Pilates or impromptu dance parties.