FIT at Simmons provides group fitness classes to Simmons students for free, thanks to a generous gift from Nancy Gavrin '58! With a focus on physical and mental wellbeing, instructors provide a variety of classes to provide a holistic approach to fitness.
Be sure to follow us on Instagram for the most up to date information: @fitatsimmons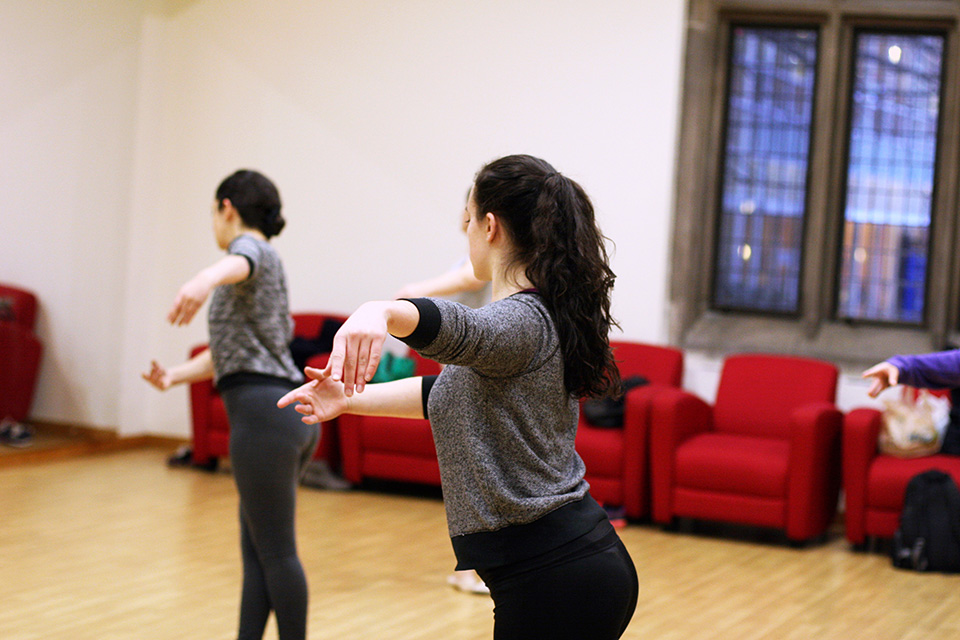 Fall 2023 Programming
Fit at Simmons programming starts on Sunday, September 10th!
All courses are offered at the Holmes Sports Center on the Residential campus.
Classes follow a drop-in format, so come any time that is convenient for you!
All classes this semester are free for students (bring your student ID to get in!) and are supported by a generous gift from Nancy Gavrin '58.
Monday
Tuesday
Wednesday
Thursday
HIIT
4:00pm – 5:00pm
FIT Studio
Kristina Reed

Dance
4:00pm – 5:00pm
Dance Studio
Sarah Morrow

Pilates
5:00pm – 6:00pm
FIT Studio
Ella Brucato

Cycling
6:00pm – 7:00pm
Spin Room
Sophie McDonnell
Weight Lifting
11:00am – 12:00pm
Weight Room
Albina Abatkyzy

Spin
8:00pm – 9:00pm
Spin Room
Lizzie Hall
Dance
5:00pm – 6:00pm
Dance Studio
Sarah Marrow

Cycling
5:00pm – 6:00pm
Spin Room
Sophie McDonnell
Stretch and Mobility
6:30am-7:30am
FIT Studio
Kristina Reed

Weight Lifting
11:00am – 12:00pm
Weight Room
Albina Abatkyzy

Spin
7:00pm – 8:00pm
Spin Room
Lizzie Hall
Class Descriptions
Dance with Sarah Marrow
This class will start off with a light stretch followed by some abs/leg workouts. Next, skills will be worked on- across the floor, technique, stationary leg holds, etc. The last 25 minutes of class Sarah will bring you through a combination that she created. This class is meant to help students express themselves in ways they normally don't. A jazz number will be more upbeat, sassy, and add some flavor, while a contemporary will be more dramatic and allow students to get into their feelings. This class will be fun and pressure free. No experience is needed!
Pilates with Ella Brucato
Pilates is a low intensity muscle-strengthening workout that can promote mobility, flexibility and posture. This class will be broken up into different sections to target different parts of the body. No experience is required, just come ready to listen to music and get stronger!
Weight Lifting with Albina Abatkyzy
In this class, we will do exercises using weights and training machines for all muscle groups. Weightlifting is great for improving physical strength and muscle mass, enhancing body composition and posture, boosting metabolism and burning calories, increasing productivity and energy levels, reducing depression and anxiety, building bone density and heart health, improving sleep quality and mood. We will use an individual approach and pace, so feel free to join any day, any week!
Cycling with Sophie McDonnell
This CYCLE class incorporates intentional choreography and hand weights to engage the whole body in an intense, transformative ride. We ride to the beat of the music, and you are guaranteed to leave the class feeling bold and brave. With heavy hills, jogs, and quick sprints, this class is designed for beginners and experienced riders alike. You are in control of the intensity from start to finish!
HIIT Spin with Lizzie Hall
This class will be ~45 minutes of high intensity spin class for moderate/advanced cyclers. This program will include fun and upbeat music that will correspond to the workout and help inspire participants to follow along. The class will start with a warm up where the pace is slow and the resistance on the bike is low. As the class proceeds, the speed and the intensity of the class will increase. As the instructor I will guide all individuals through the interval training that we are doing that day. For instance, an interval ride may include pushes such as climbs, jumps, runs, and sprints, with brief time to recover between each push. Depending on the day the interval training may work on strengthening or endurance training, along with the cardiovascular workout that cycling provides. At the end of the class there will be a cool down where sufficient time is provided for recovery and stretching.
HIIT with Kristina Reed
High Intensity Interval Training is a mix between cardio and resistance training that will include rounds of active work time followed by intervals of rest time. No equipment or prior experience necessary, body weight exercises only. We'll start with a basic stretch/warmup and then end with a cool down. There will be modifications where necessary to accommodate all fitness levels! Beginners welcomed and encouraged!
Stretch and Mobility with Kristina Reed
Who doesn't need a good stretch break during the week? This will be a good way to get your body moving at an easy pace and destress. This session will cover a wide range of movements and utilize foam rollers that'll allow you to get any knots out, recover from general soreness, or improve your current mobility.
---
Contact [email protected] if you have any questions. You can also follow us on Instagram: @fitatsimmons