FIT at Simmons provides group fitness classes to Simmons students for free, thanks to a generous gift from Nancy Gavrin '58! With a focus on physical and mental wellbeing, instructors provide a variety of classes to provide a holistic approach to fitness.
Be sure to follow us on Instagram for the most up to date information: @fitatsimmons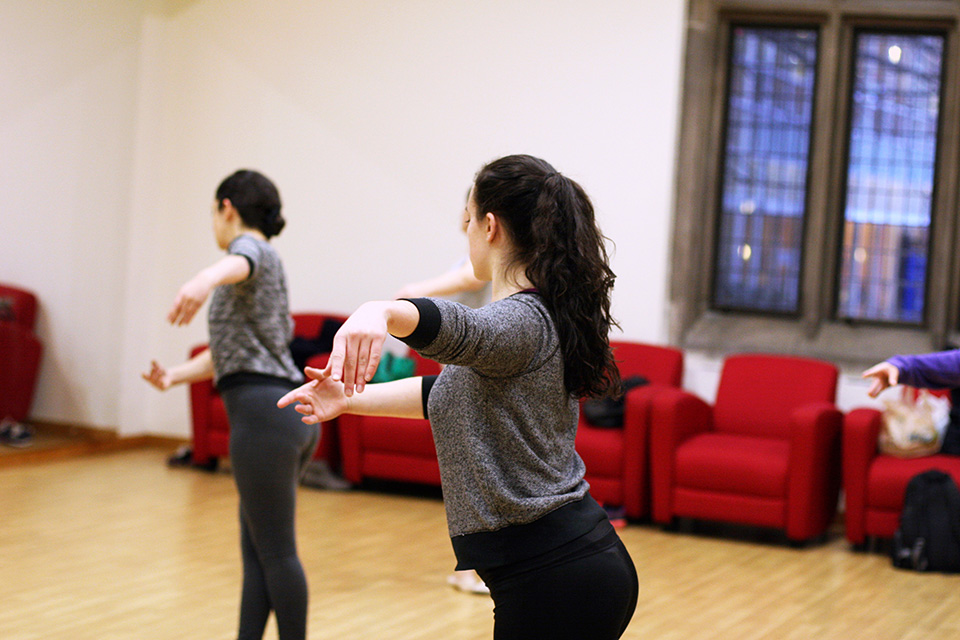 Fall 2022 Programming
Fit at Simmons programming is up and running in person for the fall 2022 semester! We have a wide range of courses that are offered, check out the schedule below, including our new Water Aerobics classes and 'intro to' classes. All courses are offered at the Holmes Sports Center on the Residential campus.
Classes follow a drop-in format, so come any time that is convenient for you!
All classes this semester are free for students (bring your student ID to get in!) and are supported by a generous gift from Nancy Gavrin '58.
We look forward to seeing you in a class soon!
Class Descriptions
---
Beginner Yoga with Perry (she/her)
Tuesdays at 5pm in the Dance Studio
Beginner Yoga is designed specifically for those new to yoga or those who are interested in a gentle practice. This class will introduce you to basic yoga poses and will also include time for breathwork and guided relaxation. Yoga is for everyone! No experience or flexibility required.
---
Full Body Circuit Training with Bella (she/her)
Mondays at 5pm in the Dance Studio
Maximize your Monday workouts with Full Body Circuit Training! Working on strengthening the entirety of the body, this workout will alternate upper body, lower body, and core exercises to get the most bang for your buck! All levels welcome!
---
High Intensity Interval Training (HIIT) with Albina (she/her)
Mondays at 6pm in the Dance Studio
Wednesdays at 7pm in Fit Studio 1
HIIT is a physical training that consists of short periods of intense exercise with a short period of rest in between. This is one of the best types of workouts to get in shape and relieve excess tension in the body. Our classes will start with a lower intensity level for the beginners and will progress as we go ahead.
---
Intro to the Gym with Nick (he/him)
Sundays at 6pm – Meet in the 2nd Floor lobby
Welcome to the gym! This free hour-long session will be an introduction to the equipment in the cardio room and weight room, including how to safely and effectively use ellipticals, spin and peloton bikes, treadmills, machine weights, and free weights. Bring any and all questions about the gym, equipment, or creating a workout routine.
---
Intro to Weightlifting with Nick (he/him)
Sundays at 7pm in the Weight Area (2nd Floor)
This class will be centered around an introduction to weightlifting, targeted towards beginners with little to no experience who want to learn various exercises, how to lift weights safely and how to create a lifting program. We will begin with body weight exercises and progress to weighted exercises at a comfortable pace, so that we can learn to use good form in order to begin lifting weights safely.
---
Learn to Row with Andrii (he/him) and Ursala (she/her)
Mondays at 4pm in the Rowing Tank (Lower Level)
Wednesdays at 6pm in the Rowing Tank (Lower Level)
Have you heard about rowing at Simmons and want to give it a try? All students are welcome to take part in Coach Andrii and Coach Ursala's learn-to-row sessions to learn fundamentals and get introduced to the beauty of rowing. No experience is necessary.
---
Mobility & Stretching with Karina (she/her)
Mondays at 8am in the Dance Studio
Thursdays at 4pm in the Dance Studio
Ever felt stiff and tired from sitting at a desk all day doing homework or studying? This 30 minute class is great for anyone who wants to destress by performing some gentle stretches and mobility exercises to help decrease tension in our bodies to help improve not only our physical health but our mental health as well.
---
Reboot Camp: Total Body Conditioning with Ashley (she/her)
Wednesdays at 6pm in Fit Studio 1 (2nd Floor)
This class will be designed differently each week to target multiple muscle groups. It will have combinations of HIIT, circuit training, cardio, and strengthening. Each exercise can be modified or advanced to best fit your workout needs. Come ready to give it your all and feel satisfied afterwards.
---
Spin (60 minutes) with Stephanie (she/her)
Mondays at 5:30pm in the Spin Studio (3rd floor)
Spin is a fun way to boost your cardiovascular endurance while having fun riding to the beat of the music! This class mixes together some speed, hills, and interval tracks to increase your endurance. A perfect place to start for beginners or anyone looking to mix up their workouts in a fun way indoors.
---
Spin (30 minutes) with Ashley (she/her)
Tuesdays at 6pm in the Spin Studio (3rd floor)
This is a 30 minute spin class followed by a gentle cool down on and off the bike. The class is designed to push your physical and mental limits in order to reach your fitness goals. It combines short bursts of high intensity training with periods of rest in between. This will get your heart racing, body sweating, and have you feeling the burn during and even hours following.
---
Water Aerobics with Sophie (she/her)
Tuesdays at 7:30pm in the Pool
Thursdays at 7:30pm in the Pool
Love cardio but hate the impact? Aqua aerobics may be just the class for you! With a focus on mobility and light cardio you can accomplish your cardio goals while being kind to your joints. Most classes will be held in waist deep water, so even those new to swimming can be comfortable and safe. Be sure to bring your proper swimming attire and towel.
---
Weightlifting with Rowen (she/her)
Sundays at 5pm in the Weight Area (2nd Floor)
Wednesdays at 5pm in the Weight Area (2nd Floor)
Have you ever wanted to see how strong you really are? No matter your skill level or background with exercise, this class will help you to safely build your strength with a personalized cycle focusing on deadlift, bench press, and back squat. And I promise, you're stronger than you think!
---
Yoga Flow with Perry (she/her)
Thursdays at 5:30pm in Fit Studio 1
Yoga Flow focuses on linking breath with movement through a sequence of yoga postures. Flow and find calm during this well rounded mind-body class. All levels are welcome. Come for the workout, stay for the zen.
---
Contact [email protected] if you have any questions. You can also follow us on Instagram: @fitatsimmons