In FY'18, Simmons partnered with Gallup to analyze data on the student experience collected from online master's students in the Nursing and Social Work 2U enabled programs to help inform retention efforts. This research has incorporated both quantitative and qualitative research and involves surveying our graduate and undergraduate student populations with questions pertaining to their likelihood to recommend Simmons, satisfaction and emotional attachment. The program has since extended to include campus based graduate students in FY'19, and to undergraduate students in FY'20.
Key Metrics
Net Promoter Score The primary metric Simmons uses to measure the student experience. NPS is based on a single question: "How likely are you to recommend X to your friends or colleagues". Simmons tracks students' likelihood to recommend their program, and the overall university. Gallup's research for Simmons' online graduate programs showed that the NPS question predicted significantly higher probabilities of retention by way of strong correlation.
Satisfaction is measuring on a 1-5 scale how well Simmons is meeting the expectations for students who are paying to attend the university.
Emotional attachment is a proprietary measure that assesses the level of enthusiasm and engagement that students feel towards Simmons.

Methodology
Data Collection All survey data is collected via a web-based survey, administered by Gallup each term. Program feedback is collected from all enrolled students, and in the case of graduate students, for each course they are enrolled in. Undergraduate student program data is collected once per year in the fall semester. Click here for a full schedule of survey dates.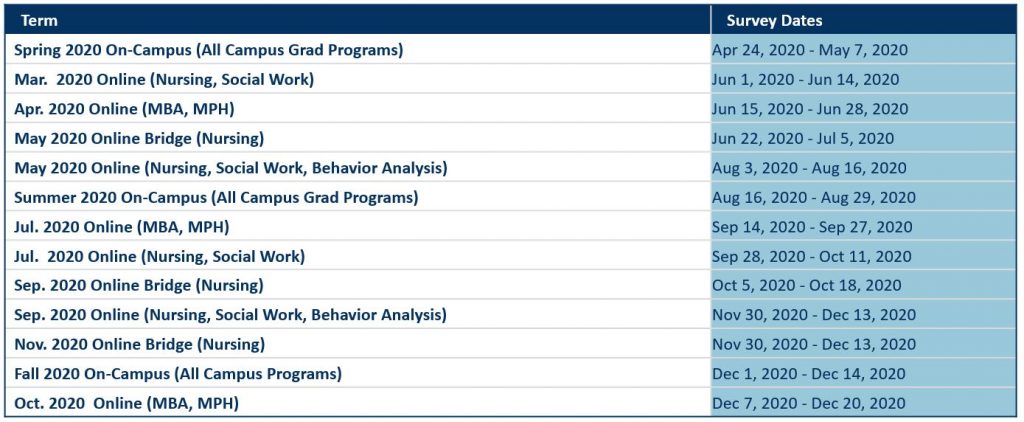 Analysis and Reporting Gallup applied a regression model to the parts of the student experience are most likely to drive high NPS numbers. See a high-level methodology overview.
Repeated Measures
To account for repeated measures (students that take the survey multiple times over the course of their program) Gallup looks at a student's most recent response to determine NPS. All data that is shared with Simmons is de-identified, and completely anonymous.
Deliverables
There are many deliverables available to Deans and program managers throughout the academic year.
Research Highlights Report: Summary report including key metric trends, drivers of NPS, other noteworthy findings and retention for individual graduate programs. Delivered twice annually, in April and October.
Dynamic Scorecard: Interactive online data report with trend data on NPS and retention. Multiple views by university, college, and program levels. Updated three times annually for all graduate programs.
Faculty Scorecard: Faculty-level reports containing detailed student feedback about their experience with the course and faculty members. Scorecards containing data from each term will be available for all online programs approximately two weeks following the end of that term.
Crosstabs: Frequency of responses for all survey questions organized by key categories, e.g., demographics. Updated three times annually for Nursing, Social Work, and Library Science.
Net Benefit Analysis: Analysis conducted to measure program-level increases in revenue based on incremental improvements in retention. For programs with sufficient sample size, this also includes a tool that allows program leadership to calculate potential revenue increases based on improvements in discrete survey items.
See a full list of report deliverables.
Action Planning: Messages from the Field
A key part of the STEP program process is communicating the research findings and acting on them. Programs have held data reviews sessions to develop hypotheses on which to conduct additional analysis, held action planning workshops and implement action plans against which they compare changes in NPS measures over time.
Find stories here on how programs are acting on the research to create a great student experience.
"The data Gallup has collected and analyzed has been critical to informing curricular and programmatic changes in the [email protected] program. It has enabled us to systematically use student feedback to improve their experience in the program. Both the qualitative and quantitative data collected from every student, every course, every term assures we are providing students what they need to optimally learn and thrive in the [email protected] program.
Our students are the experts in evaluating their individual and collective experiences and utilizing the outcomes data will guide teaching and learning and provide students with the confidence that they are heard and valued — supporting a strong student centered culture. The positive feedback students provide regarding their faculty and course work is extremely uplifting to our faculty and helps faculty to build on what is working. Negative feedback also provides value in that we can use it as reflection and to coach faculty around areas of opportunity for improvement, Constructive feedback also enables curricular insights that might be changed to help future students learn more effectively.
The data driven approach that STEP brings to [email protected] is helping to assure we maintain a stellar academic program! "

–Heather Shlosser, Associate Dean School of Nursing
Survey Materials
Questionnaires are designed to gather feedback on students' experiences in their program and in the case of graduate students, for each course they are enrolled in. Graduate surveys were initially designed by Simmons faculty for use in the 2U enabled programs, and include the addition of a handful of NPS questions to compare across partner programs. The Undergraduate survey was created working closely with the Dean and Gallup. Copies of each survey can be found below:
Graduate Course questionnaire
Graduate Program questionnaire
Undergraduate questionnaire
Results
Simmons measures NPS on both a program and a university level. Net Promoter Scores at Simmons vary widely by degree program, but overall results by academic level are displayed below.
| | | |
| --- | --- | --- |
| Academic Level | University NPS | Program NPS |
| Graduate | 24 | 29 |
| Undergraduate | -25 | -9 |
Net Promoter Scores vary by industry, and higher education institutions are increasingly relying on student experience metrics to drive strategy. For comparison data, and an overview to NPS by industry please see this year's Net Promoter Benchmarks from NICE Satmetrix.
See the Net Promoter Benchmarks.