In 2019 Simmons partnered with Gallup to examine faculty and staff engagement. Gallup has demonstrated the connection between employee engagement and a great student experience. So, Simmons is conducting the engagement research to improve both the employee and student experience, as well as important institutional outcomes such as student retention and persistence to graduation which are core to Simmons' future.
Gallup conducted qualitative research with Simmons employees as a first step, to provide insights and to inform the analysis of the quantitative questionnaire. Gallup researchers worked with Simmons leaders to develop a discussion guide that explored leaders' experience as Simmons employees. The quantitative questionnaire is a standard Gallup questionnaire against which Simmons can benchmark.
Quantifying Engagement
Creating a culture of engagement requires asking questions that drive performance. At Simmons, topics include exploration of Simmons' workplace culture and concepts related to Gallup's proprietary Q12 Employee Engagement Index. The Q12 index includes 12 distinct workplace elements including items that assess the extent to which employees' most basic needs are met, their individual contributions, how they work in their teams, and the extent to which they are able to grow within the organization.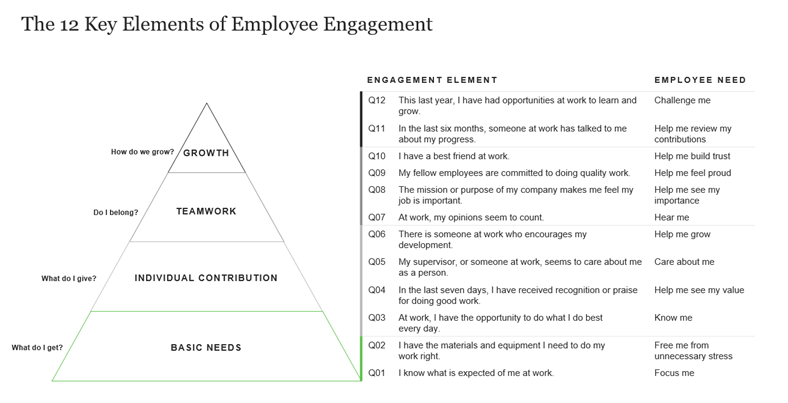 Read more information on the Gallup Q12 Survey.
Results

Engaged Employees are highly involved in and enthusiastic
about their work and workplace. They are psychological "owners," drive performance and innovation, and move the organization forward.
Not Engaged Employees are psychologically unattached to their work and company. Because their engagement needs are not being fully met, they're putting time — but not energy or passion — into their work.
Actively Disengaged Employees aren't just unhappy at work — they are resentful that their needs aren't being met and are acting out their unhappiness. Every day, these workers potentially undermine what their engaged coworkers accomplish.
Reports
Resources for Managers
Gallup Access
With Gallup Access, managers have access to
Their team's overall engagement score (Grand Mean) and how it compares to the University, and Gallup's Higher Education database.
An intuitive dashboard, with scores for each of the Q12 survey questions, and how they compare to Gallup's Higher Education database.
Gallup's extensive library of articles and research materials.
Leadership Insights
Leadership Insights for Readiness to Return to Work Pulse