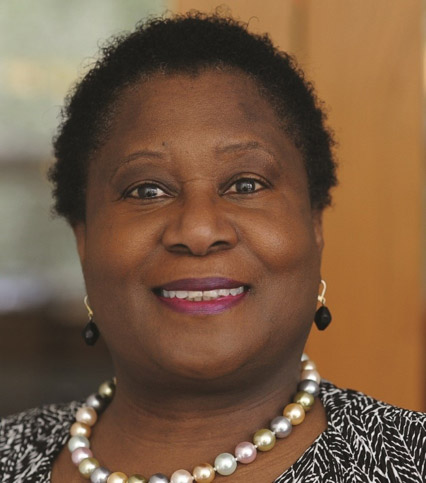 The Priscilla McKee Award was established in 1988, the year Vice President Priscilla McKee retired, to honor her dedication to Simmons. The Alumnae/i Association presents this award annually to a faculty or staff member who demonstrates exceptional service to the Simmons community.
This year's recipient is Dr. Em Claire Knowles, '88DA, '07E, who is retiring from Simmons after an extraordinary 45-year career.
Dr. Knowles served as the Assistant Dean for Student Affairs in the School of Library and Information Science (SLIS) for 30 years; upon the creation of the College of Organizational, Computational and Information Science at Simmons University, she was promoted to Assistant Dean for Academic Support. In addition to her responsibilities in the areas of student and alumnae/i affairs, Dr. Knowles oversaw student activities and diversity initiatives within SLIS. She also oversaw the SLIS Alumnae/i Board. 
In large part due to her efforts, SLIS is known for its supportive and empowering culture for all students; its strong reputation for providing excellent professional preparation; and its exceptionally high retention and completion rate.
Many organizations have benefitted from Em Claire's active volunteer efforts in the broader library community: her extensive service and leadership have had tremendous impact on the field and reflect her energy, enthusiasm, and dedication to the profession.
We are celebrating this leadership not only through the Priscilla McKee Award, but also through a scholarship — The Em Claire Knowles Scholarship — to support students in the Library and Information Science program at Simmons.