Social Media Overview: December
January 7, 2020
Each month, the Online Communication & Design team will be summarizing our social media analytics. Questions? Reach out to [email protected].
---
Instagram
Followers: 6,600
Posts: 14
Impressions: 52,453
Reach: 41,135
Likes: 5,314
Comments: 52
Engagements: 6,171
Top Instagram Post
Our top Instagram photo in December was taken by the Woman on Campus on the first snow day of the season. It is a view of the sunset from a snowy Boston street.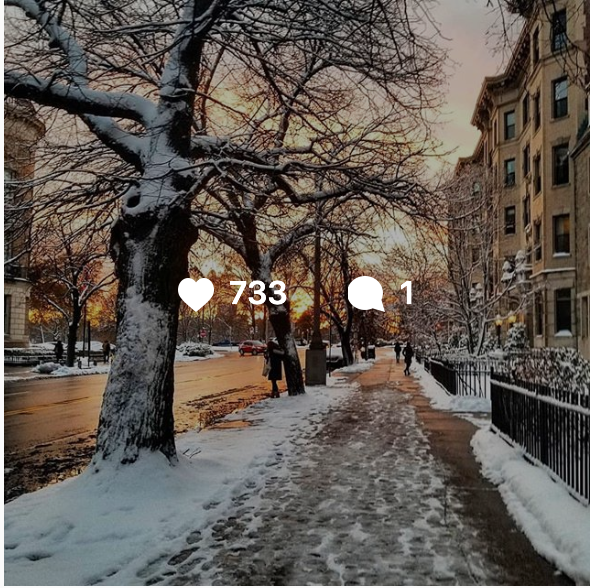 Impressions: 4,983
Reach: 3,488
Likes: 733
Comments: 1
Saves: 6
Shares: 9
---
Twitter
Followers: 10,850
# of Tweets: 16
Impressions: 125,552
Clicks: 162
Engagements: 787
Top Tweet
Our top tweet in December playfully depicts the feelings of returning to campus after Thanksgiving break. Included gif of cartoon bunny covering itself with a blanket.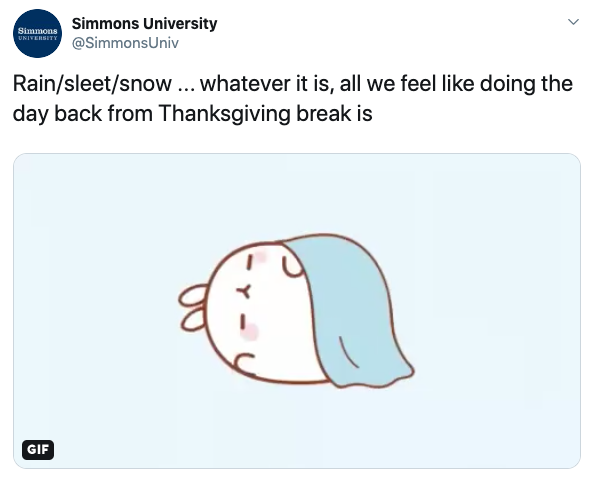 Impressions: 14,485
Engagements: 95

Media Engagements: 95
Retweets: 1
---
Facebook
Likes: 18,317
Posts: 15
Page Impressions: 49,306
Total Post Reach: 45,308
Total Post Engagements: 12,636
Top Facebook Post
Our top Facebook post announced Simmons' partnership with Columbia University for a dual engineering program.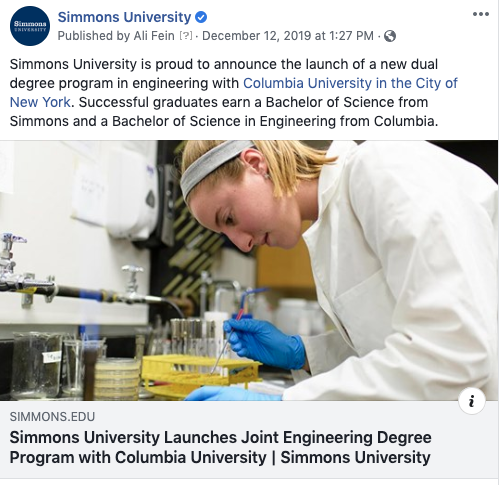 8,068 reach
1,038 engagements
843 reactions, comments & shares
783 post clicks
---
Social Media Insight Cheat Sheet
Impressions: how many times post was seen
Reach: how many users have seen post
Engagements: vary from channel; likes, comments, shares, retweets