Dear Faculty and Staff,
We will welcome over 400 first years and many first-time on-campus sophomores to their new home on the Simmons Residence Campus in less than a month.
Each move-in day, we collaborate with many offices to create a smooth and welcoming experience for students, including our Admissions, Administrative Services, Conference Services, Facilities, Public Safety, Student Life, Technology, and Student Leadership and Engagement Center. Together, we warmly welcome new students and their parents, and help students get settled in their rooms as they prepare for the next stage in their Simmons journeys.
It's a memorable experience to be a part of this day and we're excited to offer the opportunity for employees outside of our department to participate. We are looking for faculty and staff who would like to volunteer as a part of the Street Team. This is a great way to meet other faculty and staff and to meet the new students coming into our academic community.
All volunteers will be treated to a hot breakfast the morning of move-in and a Simmons Street Team T-shirt.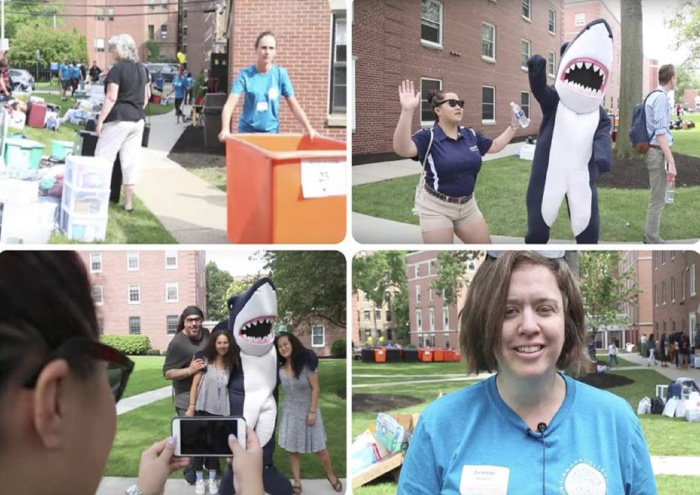 View a video of the fantastic student Street Team members in action: Simmons University Move-In Day 2018 from Simmons University on YouTube.
When
Tuesday, August 24th (First-years)
Wednesday, August 25th (Sophomores)
Move-In Logistics Meeting
Monday, August 23rd at 2:00 pm, we will be meeting to review roles and responsibilities.
Responsibilities
Street Team members will choose to work Tuesday or Wednesday (Or both!) and choose between two blocks of time; 8:30 am – 12:00 pm, or 11:45 am – 3:15 pm.
The primary responsibility of faculty and staff will be welcoming new students and their families. You could be doing tasks such as greeting students, giving directions, handing out water, and talking to family members. We will not be asking faculty and staff to lift or move student items. We can find the right responsibility for everyone, but what is most important is your presence. Our students and their families get to interact with you and meet our faculty and staff on this important day!
Please complete the sign-up form by Friday, August 6th. We welcome faculty/staff involvement after this date; however, this is the cut-off for our T-Shirt order.
We are also open to new ideas about how you would like to be involved, and please be in touch with your thoughts. Questions? Email Corey Zohlman at [email protected].
Thank you for being a part of the move inexperience!