Join Dr. Kim Harris for an evening of storytelling and performance!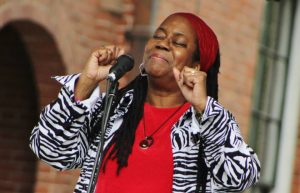 Thursday, March 19, 4:30 – 6:30 p.m.
MCB, 3rd Floor, Linda K. Paresky Conference Center
Dr. Kim Harris is a musician and Assistant Professor of African American Thought and Practice in the Department of Theological Studies at Loyola Marymount University in Los Angeles. A seasoned performer, Dr. Harris records and travels the nation, performing concerts, lecturing on the music of African American freedom traditions, and leading music in a variety of liturgical settings.
While pursuing her Ph.D. at Union Seminary, she composed Welcome Table: A Mass of Spirituals, along with composer M. Roger Holland II. Dr. Harris specializes in singing Spirituals and freedom songs and presents arts integration workshops, offered to educators, through the Kennedy Center for the Performing Arts in Washington, DC.
Dr. Harris is the 2020 Woodrow Wilson Visiting Fellow and Friars Leader.
Contact Undergraduate Programs for more information.