Beta Gamma Sigma
Beta Gamma Sigma (BGS) is the premier honor society for students enrolled in business and management programs accredited by AACSB (The Association to Advance Collegiate Schools of Business). An undergraduate student becomes eligible for membership in the second semester of junior year. The top 10% of each undergraduate class, ranked by GPA, are invited to join. The Society's mission defines this lifelong commitment to its members' academic and professional success: to encourage and honor academic achievement in the study of business, to foster personal and professional excellence, to advance the values of the Society, and to serve its lifelong members.
Alpha Delta Sigma (ADS)
Alpha Delta Sigma (ADS) is a national honor society sponsored by the American Advertising Federation. It recognizes and encourages scholastic achievement in advertising and marketing studies. The requirements are that the student must be current in dues membership, be a senior or rising senior, have taken at least two advertising or marketing courses, and have a minimum undergraduate GPA of 3.25.
UG Departmental Recognition and Honors in Management
An undergraduate student in one of the four School of Management majors qualifies for Departmental Recognition with a GPA of 3.5 or higher in management (MGMT) courses. Departmental Honors are offered to qualified students (3.5 or higher GPA in MGMT courses) subject to the College requirements.
Beta Alpha Psi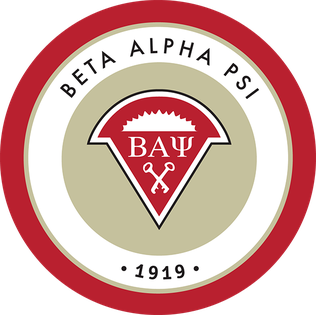 Beta Alpha Psi is an international honor society for accounting, finance and information systems students attending universities accredited by the Association to Advance Collegiate Schools of Business or the European Quality Improvement System.
The purpose of Beta Alpha Psi is to:
recognize outstanding academic achievements in the field of accounting, finance, and information systems;
promote the study and practice of professional fields related to these disciplines;
provide opportunities for self-development and association among members and practicing financial professionals;
encourage a sense of ethical, social, and public responsibilities
We have 15 pledges this year. Pledges are required to attend professional meetings and participate in service activities. We have 11 professional meetings scheduled during the 2019-2020 academic year. Those students successfully completing the pledge process will be inducted in May 2020.